Mary Dalgleish has been a volunteer facilitator for the Peace Education Programme for the past two years. She also advises others who wish to facilitate PEP in educational and community settings in the UK. Mary lives in southwest London where she works as a therapist, lecturer, and writer in the field of complementary therapies.
When I first heard about the Peace Education Programme, I knew it was something I wanted to get involved with. In my work, I often observe how easy it is to feel overwhelmed in this fast-paced world. I have felt it myself on occasions, and I often see it in my clients or in students who attend my classes.
In my life, Prem Rawat has enabled me to discover and really experience my inner strengths. This has helped me to live more in the moment, finding a restorative state that allows me to put down my burdens and truly feel the joy of being alive every day, regardless of my circumstances.
I knew the PEP curriculum was something that would appeal to a lot of people. Unlike some "self-help" programmes, it doesn't focus on what's wrong but encourages people to explore and discover their inner strengths and resources, so they can enjoy their lives.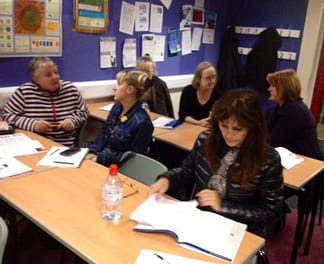 In April 2013, I proposed the PEP in Sutton College of Learning for Adults in the London Borough of Sutton, where I had worked in the past. The idea was accepted immediately. Plans were made for the first course, which started in September 2013. We had plenty of time to advertise in the college prospectus and on their website. Attendees booked their places directly with the college. There were 18 to start with. I had two co-facilitators, and we got together well in advance of the course to rehearse for our first session. We also visited the college to try out the AV resources.
We had pretty regular attendance over the 10 weeks of our first PEP. A few people dropped out for various reasons, but 13 people completed the course. We did a survey at the end, and here are some comments about what attendees liked most about the Peace Education Programme:
Being able to escape a grey, stressful life and open the door to a better life of peace, joy, and fulfilment. Having hope.
It was peaceful, stimulating, easy to understand, non-judgemental, no right or wrong, about me.
It strengthened my knowledge and abilities; built on what I already know and have achieved in my journey to fulfilment and inner peace.
Following the success of the first PEP, the college invited us to run another one in the spring term. However, we didn't have much time to advertise the second course, so we ended up with fewer attendees. Seven people completed it and gave similar positive feedback about their experiences. They liked that the presentations were direct and personal. They valued the PEP's inclusiveness—"all are welcome, no pressure."
Both groups commented on how appreciative they were that the course was free and thanked the facilitators for their availability and commitment.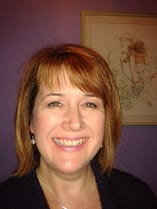 Alison Kay, one of the college tutors who attended our first PEP, summed it up beautifully:
"For me personally, my work as a complementary therapist has taught me about the importance of balance in my life. To achieve balance, inner peace is essential. Just breathing is in itself a miracle. Every day of our lives is a gift…. Prem's message reaches every person in the room, enabling each one of us to take our own meaning from his words, promoting true change from within."