Dr Mitesh Desai (pictured above) has partnered with The Prem Rawat Foundation (TPRF) to support the Peace Education Program, which helps individuals discover inner hope. In this article, Dr. Desai shares his perspective on World Mental Health Day and Prem Rawat's wisdom of personal wellbeing. This post was originally published on his LinkedIn page and is presented here with his permission.
How can we have greater investment in and access to our own inner resources?
This year's theme for the World Health Organization's World Mental Health Day is: "Mental Health for All: Greater Investment – Greater Access", which has been set by the World Federation for Mental Health.
Throughout the world, there is inadequate timely access to quality mental health services. Despite attempts, even countries like the UK in which the healthcare systems are considered to be exemplary, the theme for World Mental Health Day 2020 is pertinent.
What's more is that as an Intensive Care Doctor, I am witnessing the unprecedented effects of COVID-19. Be it healthcare professionals who have spent hours dripping in sweat and suffocated by PPE, working in an environment that no longer feels familiar; be it friends and relatives who have been denied being at the bedside and too often, their final goodbyes; be it patients left with the ongoing effects of long COVID; be it anyone of us where measures to contain and minimise the spread of the disease have completely changed our lives with tremendous impact on our livelihoods and wellbeing: just when we all needed better access, many of our mental health services have been shut down and the disparity that existed got greater, creating the perfect storm to potentially destroy the very fabric of our society.
Does wellbeing begin with me?
While this year's World Mental Health Day theme is tackling the issue of greater investment and greater access at the level of governments, organisations, societies and communities, I wonder if there is more we can also do for ourselves, at the personal level?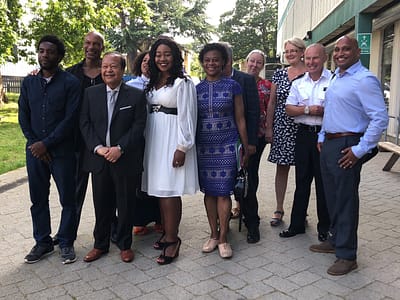 Many of us are taking better physical care of ourselves with healthier diets, regular exercise and getting better sleep, but how often do we specifically think about our own mental wellbeing? Is it something that we neglect, or even ignore, because we think of it as a weakness? Unfortunately, these inner battles and the internalised stigma related to our mental wellbeing, whether we recognise it or not, frequently manifest externally, in our families, in our workplaces, in our communities and in our societies with consequences that are, only too often, recognised late.
Having returned to clinical practice, to the frontline, to help with the tremendous efforts of our dedicated NHS staff in response to the COVID-19 pandemic, I have taken inspiration for my personal wellbeing from a deeply insightful and incredibly authentic human being, Prem Rawat.
Wellbeing begins with you. Wellbeing begins from the inner you. A lot of times we look to the outside. But when we begin to look to the inside, we realise we have everything we need. And, understanding this is the beginning of wellbeing.
Your foundation, the basics of you, are composed of amazing things. They're composed of love, they're composed of understanding, they're composed of compassion. And when you dig into these resources, you create a heaven for yourself. This is what it is to be a human being.
– Prem Rawat –
Life's Essentials with Prem Rawat bringing real hope
In this unscripted and unrehearsed podcast, Prem speaks candidly and humorously with TV and radio hosts, college students, community leaders and others about living life consciously.
Whether that's about overcoming stress and confusion, dealing with grief, understanding the impact of violence, accepting differences, tolerance and the importance of compassion, the conversations are deeply compassionate and full of understanding.
He shares solutions to everyday situations such as: the antidote to 'being unlucky', or to greed; true friendship, relationships and love; or the wisdom of children.  These are conversations that help us to get in touch with our inner hope.
Prem Rawat's approach is that we are born to get in touch with and feel our heart. It's about tapping into our inner clarity.  He calls it the "GPS of life" and talks about understanding life's dreams and indeed having the right dream. If there is a wisdom that gives hope in today's world, this is it!
So on this World Mental Health Day 2020, while governments, organisations, societies and communities are looking at greater investment and greater access at other levels, maybe each one of us could make it our priority to have a greater investment in and greater access to our own inner resources to enhance our personal wellbeing. Perhaps check out Life's Essentials with Prem Rawat on Apple Podcast and Spotify.
Dr Desai is Principal Consultant Physician and Managing Director at MD3 Consulting Limited, which provides 3-dimensional consultancy combining medical affairs, market access and medical communications expertise to help healthcare organisation demonstrate and communicate the value proposition of transformational healthcare products and services.
With the recent Covid-19 pandemic, in March 2020, Dr Desai returned to clinical practice to support the incredible efforts of dedicated NHS staff. As well as managing his consultancy, Dr Desai is currently a Trust Registrar in Intensive Care Medicine at Buckinghamshire Healthcare NHS Trust where he is supporting the further development and evaluation of post-intensive care follow-up services, including for people recovering after Covid-19.
MD3 Consulting Limited and Dr Desai provide pro bono consultancy to organisations supporting the work of Prem Rawat, including The Prem Rawat Foundation.