The Prem Rawat Foundation (TPRF) is funding a relief effort in Ecuador to provide shelter to hundreds of people whose homes were destroyed by a devastating April 16 earthquake and subsequent aftershocks.
TPRF distributed a $25,000 grant to Fundación Montañas de Esperanza (MdE)— an Ecuadoran charity known in English as Mountains of Hope. The funds are going directly to helping people in disadvantaged rural communities in the Esmeraldas Province along the northern coast that were hit hard by the 7.8 magnitude tremor.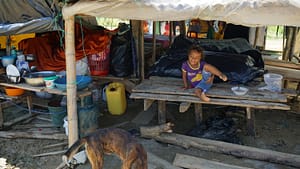 Since the earthquake, families from the hills around the fishing village of San Francisco del Cabo have been living in makeshift shanties built from salvaged materials and black plastic that becomes unbearably hot under the tropical sun. TPRF monies are being used to replace these ill-suited shacks that dot the field of a recovery camp with high-tech "cabin shelters" that can each house 10 people for up to two years.
In recent days "survivors watched incredulously as the team of volunteers set up two of the secure, practical, and comfortable shelters. To the affected families, these were clearly beautiful, spacious, and definitely aftershock-proof," says Paul Murtha, Executive Director of Mountains of Hope, which TPRF has partnered with on several prior humanitarian projects. Soon the camp residents joined in the construction effort, sourcing local bamboo and learning the building techniques to set up 20 of the innovative shelters for their new neighbors.
"The upsurge of true community participation galvanized a level of hope and enthusiasm that these displaced people had not felt even before the earthquake," according to Murtha.
In fact, people in the camp collectively decided that instead of moving into the shelters one family at a time, they would wait until all were built so that everyone in need could move in at the same time. "It's amazing to see this kind of unity and equality in action," says Murtha.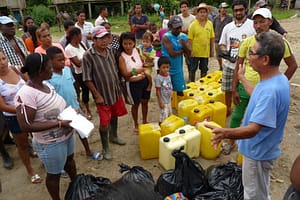 MdE's onsite partner, the Union of Farmers Organizations of Esmeraldas (UOCE), is also helping distribute TPRF donated food and medicine as well as to set up a communal kitchen, sanitation facilities, electric lights, and a play area for children.
"Even after all they have been through, they are creating a village of new hope," says Murtha. "It's remarkable to think about how providing a basic lifeline such as these cabin-shelters can enable people to regain stability, family health, a sense of dignity, and the hope to recreate a socio-economic future."
The project is already garnering the attention of representatives from numerous charity and governmental organizations, who are evaluating the custom cabin-shelters for use in other camps. Construction in San Francisco del Cabo is scheduled to be completed on Sunday, May 8, and a community moving-in celebration is planned with local dignitaries. The event falls on Mother's Day and many local moms are excited to celebrate by moving into more secure homes with their children.
Other communities in the region are being evaluated for similar TPRF-funded relief efforts.
"We hope to replicate this stunning success in as many recovery camps as possible," says Murtha. "It's demonstrating what people themselves can achieve if given proper tools and guidance. Thanks so much to TPRF and all of the donors who are making this humanitarian effort possible."