A few years ago Suraj became the first student in the village of Bantoli, India to ever pass the tenth grade matriculation exam, allowing him to enroll in junior college. In this interview conducted at Bantoli's Food for People (FFP) kitchen, Suraj credits the food program with helping him succeed in school and gain crucial life skills.
How did FFP help you succeed in school and inspire you to further your education?
I always wanted to further my education, but our financial situation wasn't very good at home so I wasn't often able to finish my studies. But after I started coming here, I started to feel some support. Once I got one good meal a day, my body felt healthier. And I started going to government school.
You don't meet many people in the village who inspire you to educate yourself. They encourage you more to plough the field and work hard, and get into hard labor. But when I saw educated people visit us at FFP, I saw that they were living really well. And when I saw them, I felt like I too should study and further my education. I thought, "I can live well, too." And that inspired me.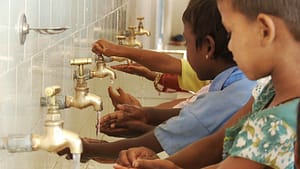 What did you learn from coming here in regards to the discipline of cleanliness?
When I was young at home, we did not learn about washing our hands with soap and water. Here at FFP, I learned about using soap and washing our hands really properly. You could eat only after you washed your hands properly. After eating, you had to wash your hands again really well before leaving. Now I have that habit in my personal life.
What is your routine these days in terms of attending college and visiting the FFP kitchen?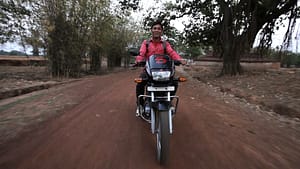 My college is about 14 kilometers from here. I travel by bike. When I have time, I come to the FFP dining hall and I volunteer by helping watch the little children and supporting the program in whatever way I can. I sometimes do some reporting, taking photos of the children and asking them about their lives and how FFP is benefiting them. I also plough the field, study, and work a part-time job.
What changes have you seen in the local community since FFP opened?
Before Food for People, very few children used to go to school—and if they did, only until the eighth grade. People used to plough the fields. It was just a very simple life.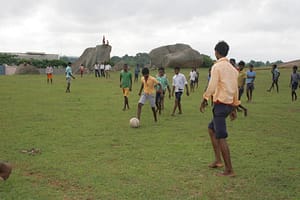 Now, slowly, change is happening. Now children want to go to college and they want to work. They really want to get their education. The way they think has changed. The sentiment now is, "Only if we study and work hard and learn and educate ourselves will we succeed and move forward."
More people in the village also have televisions and bikes now. We used to have to walk to school and that was difficult.
What are your hopes for the future? How would you like to contribute to your family and the village?
I just want to be a good human being. That's all. Everyone earns money, but if we earn money and don't have a good life, then what's the point? So my thought is that, in the future, whether I earn a lot of money or not, I want a good life. I would like to earn enough money to provide for my family.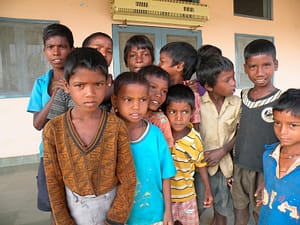 I hope that the next generation in the village can educate themselves and move forward. I'd like to see everyone united; I'd like to see everyone find peace.
Anything else you'd like to say about the importance of Food for People in your life?
I'd like to thank all of the people here who are so loving, the people who give so much love to the children. I've learned so much from it. The children learn so much from it.
Very shy children become more talkative as they start eating at the hall, and they open up. Their capacity to express increases.
In the village, it doesn't happen like that. People yell at the children. So children often don't learn to speak and express themselves. But here, they can.
When I first came here to eat, I wouldn't speak to anyone. I was very fearful. But as time went on, I became more comfortable. Now no matter what people ask me, I can talk to them and have a conversation. That's a big change for me.
Food for People gave me so much support in my life. It was a great gift for me. It helped me with my education; it helped me grow up.
Without Food for People, I wouldn't be where I am today.
Stay tuned for new video of the India FFP program and Suraj coming soon.