Praveena Chandrasekhar has a Masters Degree in Child Development and Family Relations.  She has worked for more than ten years with rural families in India to improve health, hygiene, nutrition, education, parenting skills, and economic development. Currently, Praveena is a TPRF volunteer helping with the launching of  a baseline study at the Food For People facility in Bantoli, Ranchi, India.
I walked towards the Food for People center on my first visit here in Bantoli. I am looking forward to the opportunity to be here when the children would come to have their food.  About six to eight kids were already in the garden, running around picking dried leaves, some looking at me curiously with shy smiles on their faces.
Most of the children used the toilets built conveniently near the entrance gate, as they do not have bathrooms in their homes. After washing their feet and hands, they lingered in the vegetable and flower gardens, picking up dried leaves and watering the plants.  The children performed all of these tasks willingly. Later, they walked in a calm way into the dining hall. I could see that they were relaxed and not rushing. They were at home!
Most of the children were neatly dressed, even though their clothes were old and faded. They carried themselves well. They were happy, content, and without the anxiety one typically sees in children from families caught in a cycle of extreme poverty.
In thirty minutes, about 60 children gathered, all sitting on mats laid in rows. They were enjoying the music playing softly in the background. The dining hall was spacious, and a cool breeze was blowing through the mesh windows on all four sides.
More and more children started trickling in—older siblings bringing their younger ones, parents bringing their little ones. Soon, half of the mats on the floor were occupied. I was amazed to see the kids waiting patiently, talking softly amongst themselves. The atmosphere was lively and yet serene.
I walked into the orderly, spic-and-span kitchen. Lunch was prepared and the cook was transferring the food into the big serving pots, which would go onto the serving counter.
As the serving time approached, children from one row at a time formed a straight line, picked up their thalis (food plates) and walked to the food counter. They filled their plates and calmly came back to their seats. Clean drinking water was available in tumblers in the corner of the dining hall. Many children went back for seconds, getting their favorite dhal or vegetable, along with rice.
I was pleasantly surprised to notice the children did not drop food from their plates on the ground while eating. It became obvious that they had a lot of respect for the food they were served. Leftovers were at a minimum. Even though the food was free, they obviously felt a great value for it!
I could not believe my own eyes that the children were so disciplined in such a natural way. There was no fear and no adult intervention. This shows the level of understanding and maturity in the children.
The staff in this facility are very caring and they treat the children with a lot of respect. The dining area was constantly mopped to keep it safe for the children to walk with plates full of food. The thoughtfulness of these caretakers brought tears to my eyes.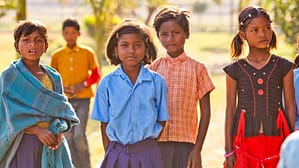 Joginder Oroan comes from Bajiatoli, a village one kilometer away from the facility. He is 16 years old and studies in the 10th grade. Joginder was in the first batch of children served meals by Food for People, Bantoli in 2006. "I feel safe and at home here," he says. Joginder tells me that he used to be very aggressive and would fight with his peers all the time. Awhile after he started coming to this facility, he found there was "some kind of quietness and calm" within himself. He finds the discipline very balancing, as his home environment is very harsh with a drunkard father and violence. He says, "I get a chance to study and do my homework quietly here in the evening." He is very appreciative of the loving staff and expressed his gratitude.
Phooleshwar Munda, also from Bajiatoli, is 11 years old and a seventh grade student. He has been enjoying the services of FFP since it began, and seems to be a very cheerful and happy child. He says, "I would not know about hygiene if it was not for coming here." He now insists on following at least some of the hygiene practices at home.
Phooleshwar makes it a point to come to the center in the evening to help in the garden. He wants to become an engineer. "I appreciate the care they give me," he says. "I do not feel that I am coming here for alms. I come every morning with dignity."
In my opinion, this is not a simple thing to achieve in a facility of this size. It is an honor for me to be here for about 12 days to witness this phenomenal activity every morning. Nowhere else have I seen such beautiful interaction with children based on mutual love and respect!
Photos Courtesy of Premsagar Foundation